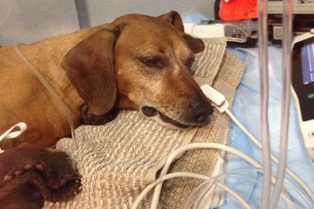 Dear Fellow Pet Lovers,
There are lots and lots of poisons and toxins out here in the real world and we see many pets who the owners suspect were poisoned. Many owners believe that we can run a simple blood test that will tell us exactly what poison was ingested and therefore exactly how to treat it.
Unfortunately, there is not one blood test that will tell us exactly what poison is present or IF one is present. (There ARE some tests that can be run to confirm that a particular suspected poison is or is not present. But this usually does not help us at ER when we see your pet.)
My best advice about poisons follows:
1) The smartest plan with poisons is to avoid. Puppy or kitty proof your home. Keep your outdoors pets confined.
2) If you do put out poison of some sort, REMEMBER that you did. Often, we delay treating a pet for rat poison when the owner forgot she had put the poison out.
3) Speaking of rat poison, if your pet ingests it, we MUST know exactly what product it was. The anti-coagulant rat poisons we have fought for years are very slow moving and very very treatable. Some of the newer types are fast and have no practical antidotes.
4) If you change your own antifreeze, remember that antifreeze is deadly toxic and tastes great to pets. Do not leave it out.
5) If your pet ingests a poison, a prescription med, or even an illegal med in some cases, get to ER QUICKLY. Usually if we can induce vomiting rapidly, the product may not have a chance to do much harm. CONFESS to us about whatever it is. We are not law enforcement. We just want to help your pet.
Other things...
Some things that you may not know are poisons...
Onions, grapes or raisins, homemade playdough, paintballs, Gorilla glue, sugar-free gum (or anything sweetened with xylitol,) and the list goes on.
Possibly the number one toxin to dogs may be Ibuprofen. There is a published veterinary dosage for it (a VERY low dose), but most people use it to excess
and thereby create severe damage. Avoid it. We have far superior veterinary products that both work and are safer.
Tylenol is death to cats, and not a great idea in dogs, in my opinion.
So, unless you KNOW FOR A FACT that a human drug is fine for your pet, and you KNOW FOR A FACT the correct dose, DO NOT USE a human product on your pet. (Incidentally, I had to discuss this with a pharmacist friend, who was recommending an inappropriate drug at an inappropriate dose for a mutual client's dog. Many pharmacists have very little training on veterinary use of drugs)
So, there you have it. A very brief overview of poisoning. There are hundreds of ways for your pet to be poisoned, though most of them are more from our own errors rather than from anything malicious. If you believe that your pet may have been poisoned, get help NOW. After hours, at the Pet ER. 337-562-0400.
You CAN do something about pet illness.
That is all.
Dr. John Emerson, Pet Emergency Clinic