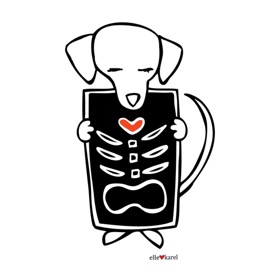 Dear Fellow Pet Lovers,
In medicine, it is understood that getting a diagnosis is very very important. If you have that diagnosis, then you know more what to expect and exactly how the treatment should be done.
Yet on a recent shift, I had three very major cases that each involved severe illness, that each got better, and that each did not surrender a firm diagnosis. What am I saying? Am I the weakest diagnostician on the planet? (Maybe- But that's not the point)
The point is that we see cases at ER (and in all medicine) in which the patient gets better, thankfully, and for which we may never get a firm diagnosis.
Though still behind human medicine, veterinary medicine has made considerable advances, especially in the last 15 years, in our ability to diagnose. More and more, pet owners are allowing us to run diagnostic testing such as bloodwork, X ray, and ultrasound. So, of course, we like to get that diagnosis.
Given that, how can we not get an exact answer when full diagnostics are approved and performed?
There is no one simple answer. But in a living animal, there are many many conditions which overlap and things are not always clear, despite good workup. Also, some of our patients do not read the book and do not respond exactly as we expect. (If you watched the show HOUSE, MD, you noticed good examples of just how hard it can be to get an exact answer in a medical case.)
So, what is the benefit of those non-diagnostic diagnostics and how do we handle those difficult cases?
Well, the non-diagnostic diagnostics are still very very valuable, in that they, at the least, tell us a number of things that are definitely NOT occuring.
Using the knowledge of all of our diagnostics, history, and physical, we can formulate a plan that is reasonable and gives your pet a decent chance, despite lack of definitive diagnosis.
Sometimes I am asked why a diagnosis may be made a few days after initial presentation when it did not show up initially. The only answer is that, after time passes, the symptoms and lab values show and become more evident. The later attending DVM now looks like a genius, I guess.
So, when your DVM says she doesn't know EXACTLY what disease is present, understand that this is not all bad and your pet still has a decent chance to do fine.
You CAN do something about pet illness.
That is all.
Dr. John Emerson, Pet Emergency Clinic