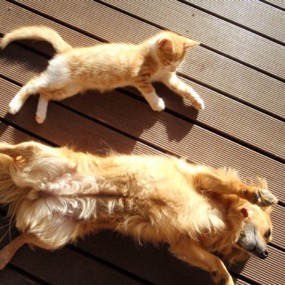 Dear Fellow Pet Lovers,
Frequently at the Emergency Clinic, we treat pets whose owners see blood in the urine. They also may see the pet straining to urinate. (Sometimes the straining to urinate occurs in the house, which becomes another problem itself!)
Most people self-diagnose urinary tract infection, or UTI, and they are often right. But in many cases, there is something else going on in addition....
Recently, I treated a dog who lives in Houston, but was in Lake Charles visiting. He presented with bloody urine and straining. On physical exam, the well-cared-for Schnauzer did not seem to feel very bad, and looked great, except for one problem. When I felt his bladder, the bladder felt like a bag of marbles rather than the normal soft, fluid-filled sac. The owners consented to X rays, and we were able to easily see the bladder full of stones.
But what the X ray also showed caused us to go to surgery faster than usual. The very nice pet had a stone in his urethra, which is the narrow tube connecting the bladder to outside. When a stone is in the urethra, there is real danger that the urethra will become obstructed, which is immediately life-threatening. So, the owners opted for surgery right away. The urethra was cleared, the stones removed, and the pet did very well. And I had the topic for this week's update: Bloody Urine.
Bloody urine in a dog is usually a bladder infection but there MAY be stones present. An X ray is definitely appropriate.
If stones ARE found, it is not a given that surgery must be done in a hurry, but it usually must be done eventually.
Bloody urine in a younger cat is often NOT an infection and antibiotics are not always appropriate. With cats, this may be stress-related more than anything else.
Male cats get urinary obstructions (plugged toms) which are life-threatening.
Finally, whenever stones are recovered, they should be sent in for analysis. Knowing the exact stone present helps your DVM better understand the correct treatment, whether it be a special diet, or meds, or whatever.
If you see your pet producing bloody urine and/or straining, get the pet to a DVM ASAP!
So, you see, bloody urine can be more of a bloody problem than you may have thought!
You CAN do something about pet illness.
That is all.
Dr. John Emerson, Pet Emergency Clinic