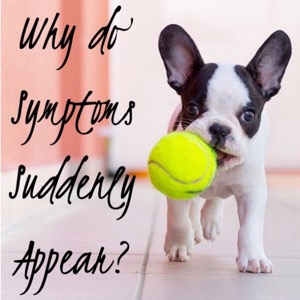 Dear Fellow Pet Lovers,
I recently treated 2 very difficult, humbling cases that reminded me that medicine can be very difficult at times.
On one, an older dog with known severe heart murmur for years but no symptoms, symptoms suddenly turned on and the pet was weak and breathing hard. But, we found one other major problem that COULD have been causing the symptoms, so I initially allowed myself to be sidetracked from the more obvious diagnosis. I was also influenced by the fact that the pet's highly-respected regular DVM had seen the dog 4 weeks earlier and found the heart to be stable. Fortunately, we finally got onto the right track, realizing that the previously-stable condition had destabilized. We got the correct treatment going and the pet is now doing better on heart medicine.
In another case of a dog whose owners were visiting from out-of town, the very overweight large breed presented in an extreme breathing crisis. It was so severe that oxygen and light sedation could not stop the tongue from turning blue, and we finally had to resort to actual gas anesthesia with a tracheal tube to stop the cycle.
When we were finally able to slow down life-saving measures enough to look for a cause, we determined that the problem was mostly the heart. And again, though this had probably been coming on for some time, the owners had no expectation that it would occur. This pet, fortunately, went home alive as well.
So, what makes a problem that has been brewing suddenly show severe symptoms?
Often we do not know, but we do know that every major problem will eventually BREAK and show symptoms. It may be stress, it may be excitement, it may be some situation that demands more from the affected organ than it can provide. But, at some point, symptoms will occur. And it does make us question our diagnosis when an animal with a known but previously-asymptomatic problem suddenly shows severe symptoms.
So, what can you do? If your pet has a chronic condition, even if it has been stable, point it out to the ER doctor. It may have decompensated. Watch your pet with chronic but stable conditions closely. If you catch coming symptoms early, we have a good chance of pushing your pet back onto the good side of the precipice.
You CAN do something about pet illness.
That is all.
Dr. John Emerson, Pet Emergency Clinic