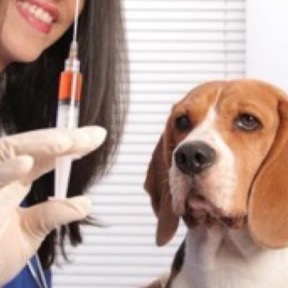 Dear Fellow Pet Lovers,
This week's update is to take up the subject of vaccination.
Lately, there has been lots of discussion on the topic of over-vaccination of both humans and pets and I believe that some of this info is real. Overvaccination could possibly cause problems, autoimmune disease (diseases in which the body attacks itself), and other diseases. But, appropriate vaccination is very important in preventing otherwise terrible diseases in a body.
You can read in the papers about certain unvaccinated children infecting other children because the parents were totally against vaccination in general. And you read about people and animals that become illl later in life, possibly related to excessive vaccination. (I confess, that I refuse to get the flu vaccine, since I believe that it could get me sick and is not necessarily effective.)
How does this relate to pet vaccines?
There has been some information coming from veterinarty message boards that I subscribe to reporting certain well-vaccinated show dogs breaking with Parvo virus after attending a show. (Parvo is a severe, life-threatening disease that causes a foul, bloody diarrhea and often death) These animals had supposedly been vaccinated with a full series BY A VETERINARIAN, and yet had still broken with disease.
Recently, I treated a 7 month-old Labrador, fully vaccinated by a DVM, for what was thought to be ingestion of a toxin. But his blood testing showed a very low white blood cell count, which did not fit toxin but maybe fit Parvo. We tested the dog, and he was Parvo POSITIVE.
So, what is the take-home point?
1-Communicate with your DVM about vaccine protocols and be sure that your pet gets the latest.
2-Be sure that you follow your DVM's vaccine schedule, to the letter, to ensure best chance at immunity.
3-Feedstore or tractor supply vaccines are usually ineffective, so be sure you get the real thing delivered by your trusted DVM for best results
4-No medical product is perfect, including vaccines. So be sure that your pet's housing and nutrition are excellent. This reduces stress and allows the immune system to function better.
5-Do not take a "blanket stand" on vaccination. That is, do not determine that all vaccination is bad and therefore not do any. Rather, research vaccination and determine for yourself how you will proceed. (Your DVM is your expert on this. He/she is probably up to date on the latest and has a vested interest in your pet doing well. Use your own expert.
And if illness occurs after hours, Pet Emergency Clinic is there to help! 337-562-0400 .
You CAN do something about pet illness.
That is all.
Dr. John Emerson, Pet Emergency Clinic